you donate stuff.

restore builds homes.
Click the button below to have our ReStore staff pick up your donation for free. You can also drop-off your donation at our retail location.
Schedule a Donation Pick-up
shopping that builds homes, communities, and hope.
what's better than that?
The Habitat for Humanity ReStore is a home improvement and donation center that sells new and gently used furniture, appliances, home improvement products, building materials at a fraction of retail prices. Every purchase, donation, and hour volunteered supports our mission: building affordable homes in the Greater Lafayette area to empower families with strength, stability, and self-reliance.
We accept donations of appliances, furniture, cabinets, doors, windows, lighting, building materials, and more. We'll even come pick it up from you for free.
We've got everything you need to remodel a room or freshen up a space at a fraction of the retail price. And because everything has been donated, our inventory is different every single day.
To keep costs down and ensure each purchase provides the most good, we rely on the help of joyful volunteers to process donations, work with customers, stock shelves, and help create displays.
MONDAY: CLOSED
TUESDAY: 10am - 5pm
WEDNESDAY: 10am - 5pm
THURSDAY: 10am - 5pm
FRIDAY: 10am - 5pm
SATURDAY: 10am - 4pm
SUNDAY: CLOSED
you make a donation.

we sell it to the public and put the proceeds to work in our community.
We rely on donations from people just like you in order to stock our store. From home goods, to plywood, here is a list of the things we're looking for, and a list of the things we can't take. If you are unsure about your donation, give us a call at 765-423-2585.
We cannot accept automobile parts, children's items/toys, clothing, exercise equipment, hazardous materials, mattresses or box springs, musical instruments, medical equipment, pesticides or fertilizers, pianos and organs, small household items, textiles, or toxic chemicals.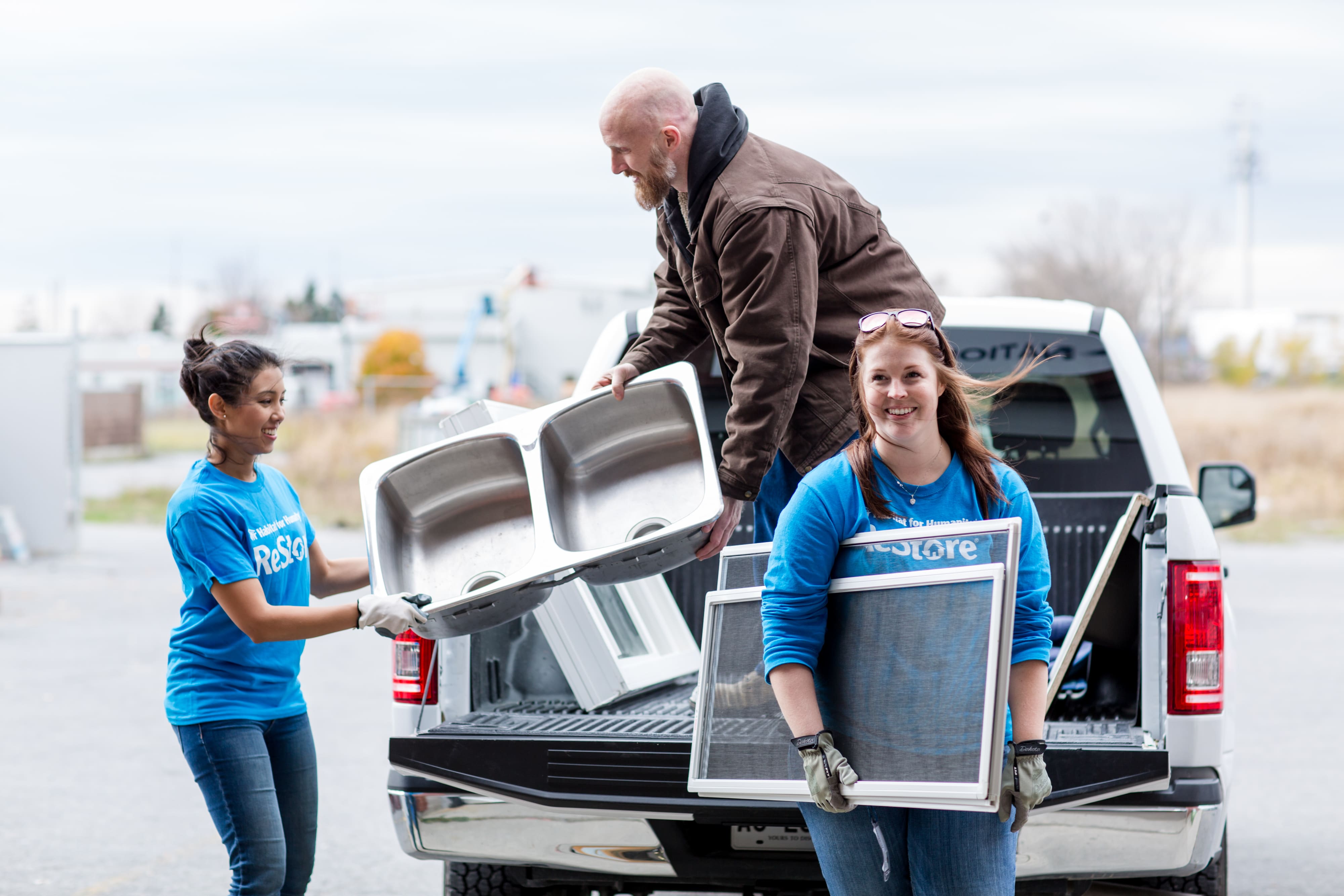 we'll pick up
your donation
for free.
Wondering how you're going to get your donation to us? We'll come pick it up from you. Request a pick-up and our ReStore staff will come to your location and pick up your donation.
Our volunteers help ensure that we're making the most of the proceeds from the sale of your donated goods. If you're interested in donating to the ReStore, we offer the following opportunities.
Product Preparation
We're looking for volunteers to help us check, repair, and prepare incoming donations.
Customer Service
Our customer service volunteers help customers find what they're looking for and help customers load their vehicles.
ReStore Ambassador.
ReStore ambassadors tell the world about ReStore and its role in Habitat for Humanity's mission at events and in presentations.