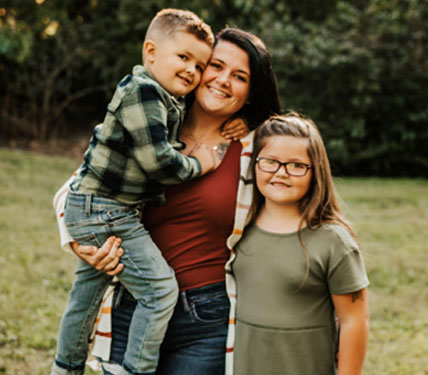 Courtney grew up in Lafayette and wants to stay to raise her children here. She has a strong support system of family and friends who keep asking her for Habitat updates and have already expressed interest in volunteering to help with the house build.
The one thing she is most excited about being a Habitat Partner Family is "the whole thing"! She can't wait to get started working towards this major accomplishment of owning her own home.
Tessa is in 3rd grade and is full of personality. She is playful and goofy, and a little bit diva. She loves art and right now, painting is her passion. Courtney said she is a good big sister. Tessa can't wait for her own space in her own bedroom. She and Courtney are working on a vision board for her bedroom.
Tarren is 4 years old and is all boy, playing with action figures, playing in dirt and in water are his favorite activities. He will love visiting the Habitat construction sites and watching the action. He is so engaged with his world he doesn't want to miss anything– except sleep!
Courtney wants to give her children a stable environment, room to grow, a healthy lifestyle, freedom, and more independence. Owning her own home is a step that can help her accomplish these goals.1