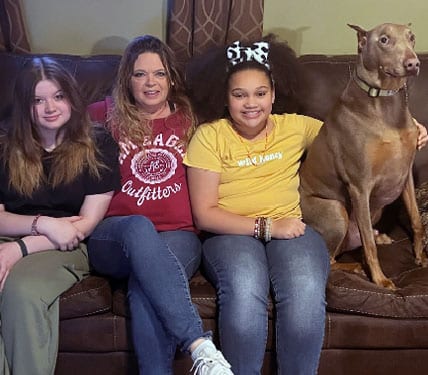 THE HOUSE THE SCHOOLS BUILT TINA & FAMILY
Tina is a home-town Lafayette girl and has deep roots. She has a lot of family in the area who are excited for her and who have already volunteered their time and talents to help this dream come true for Tina.
She finally applied after being pushed by a co-worker and is excited to be accepted into the program where she can help build a safe and forever home for her granddaughters, Hayley and Leah, and learn new and different skills.
Hayley, 13, is artistic and likes crafts and drawing. She also likes comedy movies. Her favorite subject in school is math. She is not afraid of hard work and has an entrepreneurial spirit – she started her own business raking leaves around the neighborhood. Having her own home means that it is made just for their needs.
Leah, 11, says that math is her favorite subject but that it's "hard". She likes babies, making slime, and practicing with makeup. She is loving and a good storyteller. She is looking forward to having a bigger bedroom. Both girls have some ideas about how they'd like their bedrooms to be.
Tina enjoys doing yard work and is looking forward to having and creating her own outdoor space and a home where she can spend time with her 9 grandchildren.