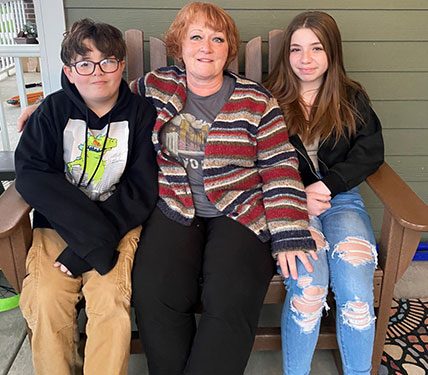 Carla was encouraged to apply for the homeownership program by her friends at work and her adult children.
She is the head custodian at Lafayette School Corporation, overseeing Linwood and Washington Schools. Carla is a responsible, strong, independent woman who finds it hard to ask for help from others. She believes in paying it forward and helping others when she can. Carla enjoys sewing and crafts with her 11 grandchildren. Her home is always full of children of all ages—some who belong to her and some who don't—but they all call her grandma!
Lily is in the 7th grade at Tecumseh and plays on the school volleyball team and was a cheerleader. She enjoys making jewelry for friends and family.
Layton is in 6th grade at Sunnyside and plays percussion and several other instruments. He's a gamer and also does robotics at school. They both love to draw and write stories.
Carla is looking forward to a place they can call their own and not having to worry about rent going up every year. She wants to provide security for her future and for Lily and Layton. She would love to have a small garden or get the pet that the grandkids are always talking about. She wants a cozy home that she can fix up, inside and out, to be enjoyed by all of her grandchildren.