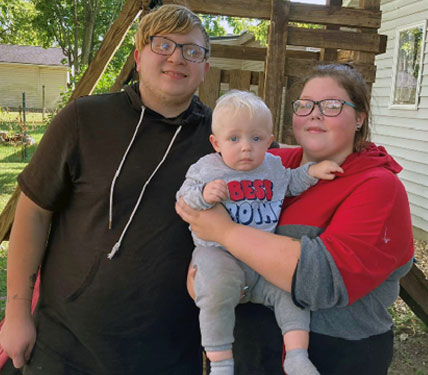 Shawn and Avrie are a young couple ready to begin their future! Family is very important to Shawn. By marrying Avrie, he became a part of her family (Avrie says they love him!) and he is excited about being a part of the Habitat family.
Shawn is not afraid of hard work. While he is in the Habitat program he will also be getting his high school diploma with the goal of a better job with benefits. He wants to learn to use the tools and equipment so he can maintain his home in the future.
Avrie's grandmother is a Habitat home owner (2nd build in Lafayette!) and Avrie has always known a Habitat house is a good thing. It came up in family stories and was a place Avrie visited often and even lived for a time.
Avrie is looking forward to helping other families and impacting their lives and learning more about finances. After moving into their home she would like to pursue her art.
Their son Ezra, 18 months, is a "gift from God." He is bubbly and is constantly learning new things about the world around him. Avrie and Shawn love playing with him and going on walks with him.
Shawn and Avrie believe that having stable housing is the first step to uniting them as a married couple and as parents to their growing family. They are expecting a baby boy in May of 2023!