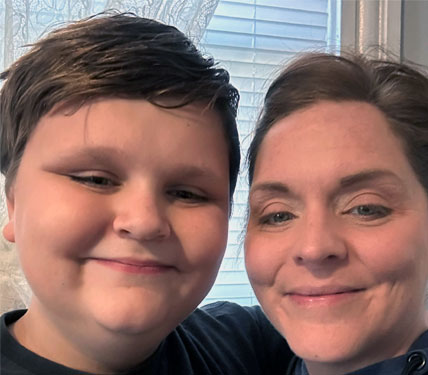 Sarah is ready for the responsibility of home ownership. She recently got a promotion at work with increased responsibility and her confidence in herself is growing. She says she feels like she's finally becoming an adult.
Sarah didn't think home ownership was for her because housing prices were out of her range. She has always known about Habitat and, on a whim, checked the website and saw applications were being accepted!
Jackson, 13, is definitely an extrovert and not shy. He is good at being funny on purpose and on accident. He likes video games, sports, being around his friends and TV. He is looking forward to having more privacy, room to play with his Legos and being able to have friends over.
They both are looking forward to participating in building their home with Habitat. Sarah wants to learn and see the progress of a house being built. She is also ready get out of her comfort zone.
Jackson has a lot of experience with all things home building by working with his Dad. He can't wait to be able to help on his own house!
Sarah grew up in Lafayette, but moved around a lot. She wants a home where she can have family gatherings. She wants Jackson to grow up in a safe and stable home and always be able to come back home.