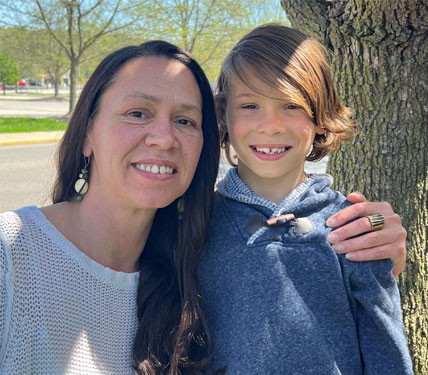 Rebecca grew up in Tennessee. She toured around the states in a VW bus when she was in her late teens and early twenties! She moved to Lafayette for work. She is a CNA who works in hospice with Franciscan Hospital.
She is a dedicated, hardworking, loving mom. She always strives to be a conscious and better person. She loves doing anything with her son. They love being outdoors, climbing, riding bikes, and canoeing. She likes to cook, paint, and listen to music and comedy.
Her son, Timothy (TJ), is a rambunctious 9-year-old who is in 3rd grade at Edgelea Elementary. His favorite subject in school is math. His mom describes him as an old soul full of energy and love. She says he is so smart and a joy to be around! He loves climbing, skating, swimming, karate, and building anything.
Rebecca is looking forward to creating lifelong memories with her son in their new home. It will be a place that provides a true foundation to build upon with the knowledge that they can go out into the world each day and face all that they encounter, knowing at the end of the day, they have their home to come to and share together.