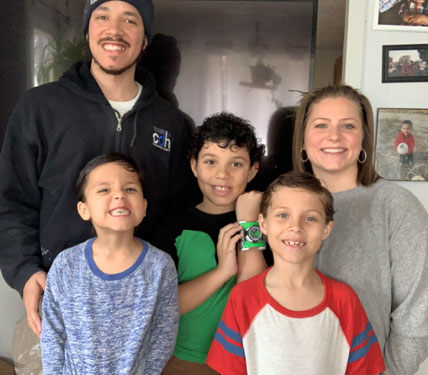 KOURTNEY & LINCOLN, KHAI, KARTER & KALVIN
Kourtney has known about Habitat since she was a young child because she lived in a Habitat home with her parents who are Habitat homeowners! She was born and raised in Lafayette. Lincoln was born in Lafayette but spent his younger years growing up in Dyersburg, Tennessee. He moved back to Indiana at the age of 15.
Lincoln works for Quick Lube as an oil change technician. Kourtney is currently a stay at home mom. Kourtney likes to read fiction books, crochet and do arts and crafts projects. Lincoln enjoys gaming with the kids, going on motorcycle cruises, and fishing. They love their family time and trying to squeeze in a date night when they can!
Khai (age 9) and Karter (age 8) are both in second grade at Vinton Elementary. Khai was diagnosed with autism at age 4 and is very creative and crafty. He loves to draw and recreate scenes from his favorite moves and dress up like the characters. Karter is very smart and bossy. He is very energetic and loves recreational sports, board games, and gaming. Kalvin (age 5) is the goofball of the bunch! He attends Bauer Headstart. He loves being outside, playing recreational sports, and doing anything that Dad is doing.
Kourtney and Lincoln are looking forward to providing a more stable home for their family. They are all excited about this opportunity and journey! Khai asks every day if they are building their own house!