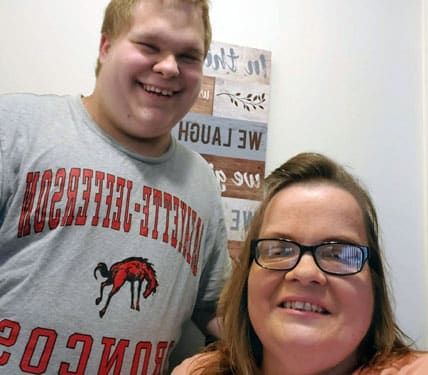 THE APOSTLE BUILD BRENDA WALKER
Brenda is "truly blessed" that she is a Habitat partner family. She knows several other partner families and they encouraged her to apply. She uses a wheelchair full time and finding accessible housing is a constant struggle. She is excited to be part of the process to create her own home!
Brenda is working on 2 big goals in her life: a home for her and Jacob and getting her college degree. She will graduate from Purdue University Global in October with a degree in Psychology. She plans to work with people with disabilities to help them find jobs and careers.
Jacob will be starting 10th grade. His mom says he's good at "being bossy". He has a wide variety of interests: matchbox cars, cooking (pizza and tacos are his favorites), being outside, beading, and construction equipment. He loves school and is "Mr. Handyman". He loves to help others fix things.
Jacob is very excited about his new home, being able to be outside more, and painting his room blue.
Jacob has autism and cerebral palsy and that makes his future uncertain. Owning her own home is important to Brenda because it is an investment for Jacob's future where he will always have a safe, familiar place to live.