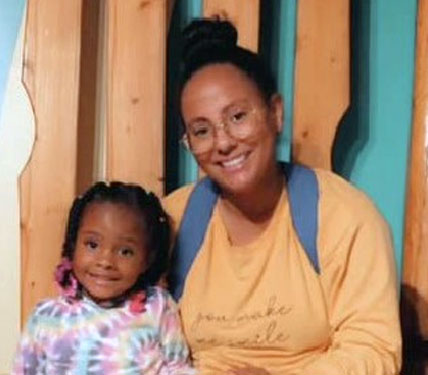 Kelci learned about Habitat through a Facebook post. She could not wait to apply! Owning her own home is a goal of hers (before she turned 30) but she felt it was out of reach with the Lafayette housing market. Habitat is making it possible for her to reach that goal.
Kelci grew up in Lafayette. She's a life-long learner. She graduated from Indiana State University, works at The Learning Nook, and would like to go back to school for her master's degree.
She is excited about being a partner family, working on the builds and learning new skills. She looks forward to working on her own house and then remembering what she did—"I put that window in!"
Kaliyah is a delightful 4 year old who attends preschool and is learning a lot: new songs, letters, numbers, and writing. Her Mom says she is smart and outspoken, with a little "attitude" sometimes. She has a good imagination and is really creative.
She is very active in dance and gymnastics and swimming classes.
Together Kelci and Kaliyah love being outside, going to parks, shopping and doing their nails. They also love spending time with their 3 bulldogs Rhonda, Potato, and Hash.
Kelci says her Habitat home will be a safe and stable home where she and Kaliyah can create memories together.