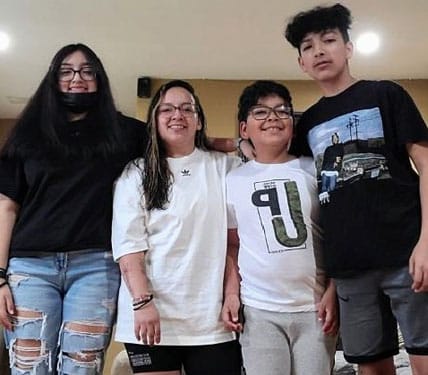 THE HOUSE THAT BEER BUILT XOCHITL & FAMILY
Xochitl is very excited and motivated to be a Habitat Partner Family. She completed her online application at 12:01AM the day (middle of the night!) they opened up. Her Mom and a co-worker encouraged her to apply.
Originally from Mexico, she has lived in Lafayette many years and has a lot of family around her who enjoy getting together for meals and parties. She is most looking forward to designing and building the kitchen – the Heart of the Home – where she can host her own family gatherings.
Her oldest son, Tony, is entering high school soon and keeps busy playing soccer on a travel team. He is athletic and loves all sports. Xochitl calls him "smart-lazy" and he does well in school, although he isn't a fan of reading.
Jackie is in middle school and is shy at first, but then outgoing. She is strong from her years of gymnastics and very competitive with brother, Tony. She also likes math and reading.
Jony is in 4th grade and is the funny one of the family. He loves board games (Headbanz is his favorite) and watching YouTube gaming channels. Xochitl says he is kind, and he helps her sort laundry, even though he really doesn't like to.
Everyone in the family is looking forward to more space and privacy in their Habitat home. Xochitl has several goals, with owning her own home as the foundation of them. Once her living situation is stable (no increased rent, landlords) she will be able to focus on saving for an emergency fund and a good working car and maintaining her home.